Do you have a vehicle you would like to dispose of--quickly, easily, without the headaches of finding a buyer and dealing with possible post-sale liability? You can do so and save innocent lives and gain a valuable tax deduction. *** Simply donate your car, boat, RV, travel trailer and horse trailer to Border Collie Rescue! If you've been storing your RV or unused vehicle, and haven't used them in years, this is a perfect way to get rid of your storage payments and help the Border Collies!You receive a tax deduction when we sell your donated vehicle. To qualify for a 2017 tax deduction, the vehicle must be sold within the next couple of months. Please don't wait until the end of the year to make your donation if you want to take advantage of a deduction for this year
.
If we are unable to sell your vehicle before the end of 2017, your tax deduction will then be available for 2018.Just complete and submit the
following form or contact bcrncinc@aol.com, and a representative of Border Collie Rescue of Northern California will contact you within a few days to arrange the pick up of your vehicle. Every cent Border Collie Rescue receives from your donation will go towards helping homeless Border Collies find permanent, loving homes. Thank you so much for your support!
Please help!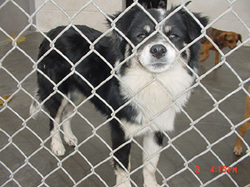 How many Border Collies

will be saved

by the

donation of your car?

*** Please check with your tax advisor to see how your donation will benefit you, as benefits may vary according to the individual's situation.


---