IS YOUR BORDER COLLIE LOOKING FOR A NEW HOME?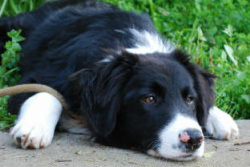 We realize that sometimes circumstances change, and you need to find a new home for your dog. We can help in two ways. First, if it is an emergency situation and if we have a foster home available, we can take your dog into our rescue program. We only take PUREBRED BORDER COLLIES into our foster homes. The dogs don't need papers, but they do need to look purebred. PLEASE NOTE: We will always take a dog back into our rescue if they were originally adopted from us, regardless of whether they are purebred or mixed. We sometimes adopt mixed puppies to applicants as it's difficult to tell if they're purebred when they are very young. Once a dog has been in our rescue though, they will always be given the opportunity to return, if necessary. Relinquished dogs must be spayed or neutered and up to date on their vaccinations. Secondly, if this isn't an emergency or if you have a BORDER COLLIE MIX, we will be happy to place your dog's picture and description on the DOGS AVAILABLE FOR ADOPTION PAGE of our website and prospective adopters contact you directly. This is usually the best situation for the dog as they can stay in their familiar surroundings until a new home has been found.
WE SOMETIMES HAVE OPENINGS IN OUR FOSTER HOMES. If you need your dog to go to a foster home, and there isn't a home available, we can place you on a waiting list for the next available foster home. To get on the list, please submit the following application: SURRENDER APPLICATION.

IF YOU WOULD LIKE US TO POST YOUR PUREBRED OR MIXED BORDER COLLIE IMMEDIATELY ON OUR DOGS AVAILABLE FOR ADOPTION PAGE AND HANDLE THE ADOPTION YOURSELF, PLEASE FILL OUT THE FOLLOWING FORM: PLEASE POST MY DOG ON YOUR WEBSITE.

---