FOSTER HELP NEEDED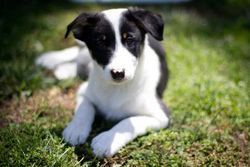 Border Collie Rescue of Northern California, Inc. desperately needs Foster Homes for our Border Collies. Every day we have to turn down wonderful, deserving dogs because there is no room at the inn. These dogs are euthanized at shelters everyday. PLEASE HELP US. A secure yard/kennel is required, dogs should sleep in the house at night in a crate. You should have time to train, socialize and exercise the Border Collie. The dogs need to be house trained and given some basic manners. They are placed as companions first, competition & herding dogs second. Experienced Border Collie owners know that living with a Border Collie is special. Not always easy, but special. We are not financially responsible for any damage to your property while caring for a B.C. We do pay for the dog's expenses to include food and veterinary care as long as expenses are authorized by Rescue. This is not a job for a first time pet owner, but someone who has experience with Border Collies. If you would like to help, please fill out our foster application, or for more information please email bcrncinc@aol.com
We are only accepting foster applications from people living between San Luis Obispo and Stockton as well as Marin, Contra Costa, Napa, Sonoma and Solano County.
PLEASE NOTE: Before you complete a foster application, please be sure you are really interested in fostering. In order to discourage people from volunteering to foster when in fact, they are just looking for a dog to adopt, we require the foster providers to foster for six months before they can adopt one of their foster dogs. For people interested in adoption only, please note: we do have a two week trial period where the adopted dog can be returned for any reason and the owner will receive a full refund of the adoption fee. If adoption is what you are really interested in, please fill out an adoption application.
---