Taking Pictures of Your Foster Dogs
by Adri Pendleton Photography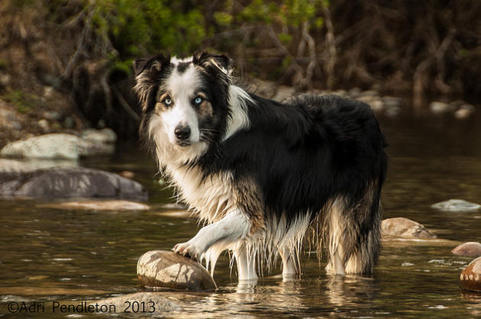 It's pretty simple – good pictures go a long way in getting dogs adopted. They are an important part of attracting potential adopters! I am by no means a professional photographer, and I still have so much to learn when it comes to photography. But, I have learned a lot in the time that I've been behind the lens. I'm going to give you guys some basic tips that will help you improve the pictures you take of your foster dogs.
-First, take a look at the area you will be taking pictures. You want a nice background, if possible. No fences, no cars, no buildings, no poles, nothing that could distract from the subject of your pictures – the dog. In my photos of dogs, I aim for a background of nothing but trees, rocks, bushes, etc. Also, remove any clutter that would be in the picture. Dog toys, bowls, etc. in the picture will draw the persons eye away from the subject.
-If possible, try to get their ears perked forward, and have their eyes looking at or near the camera lens. I usually take a high value treat or toy, and hold it right above the lens of my camera. Eyes are very important, in fact, they are the focal point of almost every picture I take of foster dogs. "The eyes are the window to the soul" could not be more true. Make sure we can see those eyes!
-DO NOT take pictures in direct sunlight. Sunlight is harsh, it creates ugly shadows, causes the subject to squint, and I could go on…Either find shade that is not spotted with little areas of light, wait until the sun has gone down enough that there are no more shadows, or take pictures on an overcast day.
-This is also very important - take the picture from the dogs level. Not above, not slightly above, but at their level. This gives an interesting perspective, and is just in general more pleasing to the eye.
-Leash the dog. This keeps the dog in the area where you have chosen to take pictures, keeps them from moving around too much, and makes it easier for you to get their picture. I usually leash the dog to something that is out of the frame of the picture.
-Don't cut off body parts! Let's not butcher the animals, people. Dogs have feet, and ears – keep them in the picture!
-We really don't need a ton of full-body shots. Variety is a good thing - try to get some full-body shots, some head shots, and partial-body shots.
-Don't use flash unless, for some reason, you absolutely have to.
-And, last but not least, try to take pictures that aren't too dark and aren't too bright. If the white of the dogs fur has zero detail, the picture is too bright. If the black of the dogs fur has zero detail, the picture is too dark. Aim for a nice balance, if your camera allows it. I am happy to edit any photos sent to me, including editing out leashes. Just ask Terri for ADRI's contact info.
---