MEDICATIONS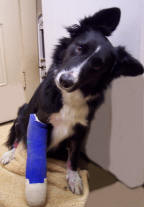 Sometimes your foster dog may not feel quite up to par. I will list some remedies that have helped a lot of dogs in the past, and the proper medications for certain ailments. Our rescue is able to get medication at a discounted price. If you need any of these medicines, please let me know. Medication shipped by priority mail usually arrives the next day or in two days maximum. I'm working on a first aid kit for foster families so you will have some of these medications on hand, just in case. If you need medications, please email tld4now@aol.com or if you have a question, please feel free to call Terri at 408-847-7419.
DIARRHEA - This is a very common ailment, caused by a change of food, environment or stress. It is also present when dogs have internal parasites and with some diseases.
Treatment: You can feed a bland diet - boiled hamburger with some boiled rice - cottage cheese - plain yogurt.
Medications: Metronidazole is an intestinal antibiotic.
Dosage: 250 mg. for a 40-50 pound dog, every 12 hours.
This medication is also used for Giardia. Giardia needs to be diagnosed by microscopic examination.
Dosage: Same as above.
Albon is for Coccidia. This will need to be diagnosed by microscopic examination.
Dosage: One tablets for every 10 pounds of body weight for one day then
One half tablet for every 10 pounds of body weight for 9 days.
Drontal Plus is a worm medicine to eliminate tapeworms, roundworms, hookworms and whipworms.
We generally worm every dog that comes into rescue.
Dosage: 22.7mg. tablets - Body Weight Number of Tablets
5-7 1.0
8-12 1.5
13-18 2.0
19-25 2.5
68.0mg. tablets - Body Weight Number of Tablets
26-30 1.0
31-44 1.5
45-60 2.0
HAIR LOSS - If you see a bare spot and the skin is red and moist, chances are pretty good that it is a hot spot. This is an area that the dog has chewed, usually in response to a flea bite. Cleaning the area with some Hydrogen Peroxide will help and you can put some Neosporin ointment on it. If you see fleas, we have both Advantage and Frontline available for you.
If the bare spot is not red but there is just hair loss, it is probably mange. There are two types of mange. Demodectic mange, also called puppy mange or red mange. Every dog is born with the demodectic mange mite. It usually doesn't cause any trouble unless the dog is stressed and then the mite becomes active. This is a self limiting reaction. It usually takes about 3-4 weeks for it to run it's course but the hair will grow back on it's own. There are medications for this but it still takes the same amount of time to resolve itself, with or without medication. Demodectic mange is not contagious!! Sarcoptic mange is the second type. This type is not only contagious to other dogs, people can get it too. If you see a bald spot on your dog and then you start to itch (usually around your waist or a place where clothing is tighter), this is Sarcoptic mange. They now have an injection of ivermectin for the dogs which kills the mites immediately. If you have the mites, they will go away on their own. We don't see this type of mange very often so it's nothing to worry about. Demodex is the most common.
LIMPING - If your dog starts to limp, usually giving them a day to rest is always a good idea. These dogs are so active, they run and jump and can pull a muscle or strain themselves very easily. If a limp is persistent, even after a good rest, then you should have it checked out. You can give the dog a Buffered Aspirin (not Tylenol or Advil) regular Aspirin that is buffered or tri-buffered. For a 40-45 pound dog, one tablet twice a day for stiffness and pain. If you have a dog with arthritis, you can also give them the Buffered Aspirin. Another option for the arthritic dog is Glucosamine. Trader Joe's has a chewable Glucosamine tablet for dogs. We have used this for dogs with arthritis as well as back problems with much success.
ALLERGIC REACTIONS - I'm including this because we've had three dogs in the past few months that have had an allergic reaction, most likely to an insect bite. All of a sudden their faces swelled. You first notice that they just don't look the same and then you notice how tiny their eyes are and their muzzles are all puffed up!!! Prednisone (a steroid) is one medication that can be given. Up to one milligram per pound of the dog's weight. If you have Benedryl tablets on hand, they can also be used. Give one tablet and if the swelling hasn't started to come down in one hour, you can give a second tablet. Benedryl can make them drowsy.
KENNEL COUGH - Most dogs coming out of shelters have kennel cough. This is like a common cold in humans and is very contagious to other dogs. If your dog has kennel cough, it is best to leave them home so you won't expose other dogs. We have several medications now for kennel cough.
Doxycycline 50mg. for dogs under 30 pounds. One tablet every 12 hours for 1 day, one tablet daily for 5 days.
100mg. for dogs over 30 pounds. One tablet every 12 hours for 1 day, one tablet daily for 5 days.
Baytril - In some cases, Baytril will be combined with Doxycycline to treat kennel cough. The recovery rate is very fast with this combination (3-5 days) but is not given to dogs under one year of age. Dosage will be described when this combination is suggested for your foster dog.
Cephalexin- 250mg. for dogs under 30 pounds. One tablet every 12 hours for 10-14 days.
500mg. for dogs over 30 pounds. One tablet every 12 hours for 10-14 days.
Orbax - 68 mg. for dogs 30 pounds. 1/2 tablet daily for 10 days.
68 mg. for dogs 60 pounds. 1 tablet daily for 10 days.
SUPPLIES:
If you need any medical supplies, please let me know. We have all the medications listed above plus Advantage, Frontline and Heartgard.
---