Established in 1998, we are a 501(c)3 non-profit organization that is dedicated to the welfare of the Border Collie. We are active in rescuing Border Collies from shelters and assisting owners who wish to place their dogs into new homes. We rescue dogs from as far north as Stockton, south to San Luis Obispo, and from the North Bay and South Bay Areas. We do however, adopt dogs to homes in all areas of California as well as neighboring states. We are a foster based organization where our rescue dogs enjoy staying with one of our foster volunteers until they are adopted. We depend on donations, adoption fees and the sale of merchandise to take care of the dogs in foster care. Medical bills run very high and donations are always welcome. If you would care to make a donation, please click on

Donations.

---

BCRNC on FACEBOOK

---
Dixie - formerly known as Maggie - Success Story on her first Adopt-iversary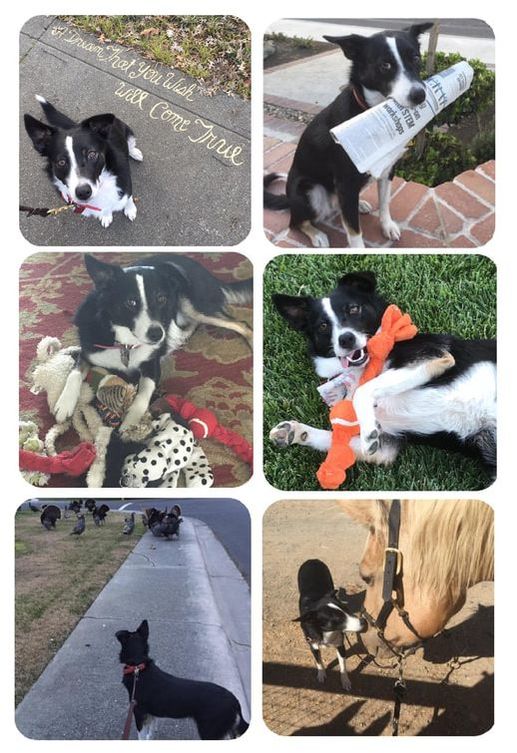 July 18, 2017
I just wanted to send update in honor of our one year "adopt-iversary" with Dixie! We have had a wonderful year having her as a very important part of our family. She is so sweet to everyone she meets from cats to people to my horse and even to our neighborhood wild turkeys! She loves meeting other dogs and has her buddies over for play dates or gets in a good run with her friends at the dog park. Dixie gets our newspaper every morning and is quite the collector of toys to chew and toss in the air and chase! I couldn't ask for a better walking partner-we get our steps and miles in every day! Dixie is one the most affectionate dogs I've ever known and is always by my side ready for a snuggle or pat. She is the perfect dog in every way and we couldn't be happier having her as ours!! We are truly grateful to Brittani and Kim for the wonderful job they did of taking her in from the shelter, fostering her and then choosing us for her forever home! We look forward to many happy years with our sweet girl!

Many thanks again for all you do!

Cathy, Dixie and family

---
Foster Homes Needed


We are limited to the number of dogs we can save, by the foster homes we have available in our area. There is nothing more rewarding than helping save the life of a wonderful Border Collie and find them a special family of their own.

If you would like to be a foster provider, please click on the link below and submit an application.

FOSTER HOMES NEEDED


If you live anywhere between

Fresno and Stockton or in the North Bay or South Bay Areas, we could really use your help.

---

Options to help us while shopping!

Search the Internet using Goodsearch and BCRNC earns money for every search! Click below to get started.


---

Shop at

smile.Amazon.com

and BCRNC will earn money. Instead of logging into Amazon.com, log into smile.amazon.com each time you want to shop. Scroll down to where they ask for the charity you want to support and type in Border Collie Rescue of Northern California or bypass all of that and click on the Amazon image.

Amazon will donate a portion of whatever you spend on their website to our rescue.

Thanks so much for your support.