A time to give Thanks for our Border Collies.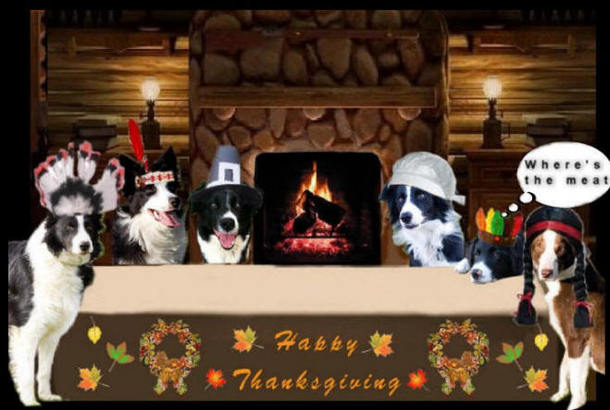 Please check out the items we have for our Thanksgiving dinner table. By making a donation to our rescue, you can help fill up our table and replenish our Border Collie medical fund.

THIS WILL BE OUR ONLY MAJOR FUNDRAISER FOR THIS YEAR

On Thanksgiving Day we are reminded of the bounty of treasures that are a part of our lives. For many of us, the biggest treasures include the unconditional love we receive from our Border Collies. We hope this year you will honor your Border Collie by making a donation in their name for our Thanksgiving table. When you pick an item for our table, we will post your message to honor your present or past dogs. Be sure to enter your dedication in the box provided, before clicking on the "add to cart" button. If you don't want to leave a message, we will just list your first name with the item you've donated. All donations for our Thanksgiving table will be used for our current and upcoming rescue dogs in Border Collie Rescue of Northern California. Thank you so much for your help and support!

ITEMS FOR THE TABLE: PLEASE REMEMBER TO ENTER YOUR DEDICATION BEFORE CLICKING ON THE "ADD TO CART" BUTTON.