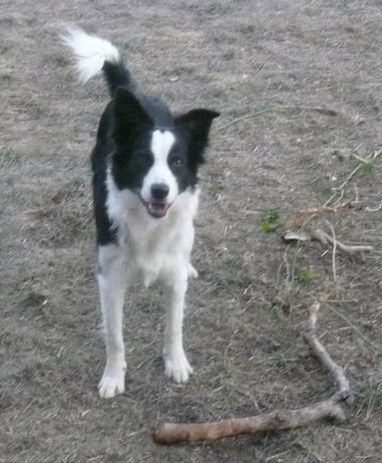 Quita
(key tah) / also known as Keet, is a 4 year old spayed female. Keet is a wonderful little girl. She is both affectionate and playful. She loves to cuddle and snuggle. When I am working outside she is constantly by my side and is content to lie quietly in the room if I am working inside. She wants nothing more than to be by her person's side.
Keet loves to ride in the car and on the ATV and doesn't get car sick. She is well house broken and sleeps in her crate at night. She is not destructive inside the house or out. She does destroy her toys rather quickly but then, they are her toys. Keet has very good house and door manners. She sits and waits to be let in or out of the house. She is a quick learner and picked up many of the house rules from Meg. Keet is very obedient and biddable. She knows more than 15 commands. I only use food rewards for "here" and "crate" which I consider critical commands. She is rewarded with pets and sweet talk and willing works for them.
Keet is not a barker. She only barks to alert me when company comes and when coyotes are around. She quits when told "enough". Also she will bark to initiate playing. She loves to chase sticks and will carry them around in hopes of a game.
She is a sweet, silly girl with a "gay tail" and shows no herding potential.
Keet needs to be the only dog in a home with no preteen children.
Keet lives in Cazadero, CA
For more information, please contact Catherine at
cczjmccz@wildblue.net