PLEASE JOIN US FOR OUR ANNUAL EASTER BASKET FUNDRAISER!!

Celebrate with us and help the Border Collies in Northern California

This year our online Easter Basket is waiting to be filled with eggs, chocolate bunnies and toys with a special goal in mind. Our goal is to raise money for both of the Border Collie rescues in Northern California! Yes, there are now two branches of Border Collie Rescue that can use your help. Since the newest branch,
NCBCRA
is still in the application phase of getting their 501(c)3 status, BCRNC will be accepting donations for this fundraiser so you can get a tax donation for your gift. BCRNC will split the donated funds at the end of the fundraiser so both rescues will benefit from your generosity. You can now help Border Collies from both rescues at the same time by filling our Easter basket. Both rescues have many dogs right now who are going through expensive medical treatments, dogs with heartworm disease and chronic skin and immune issues. Once we receive your donation, an egg, chocolate bunny, or toy will be added, along with your name or message. Thank you for helping us continue our work of rescuing, healing and finding new homes for deserving Border Collies!
Click on the photo below to see the current decorated Easter Basket and Thank you for your help!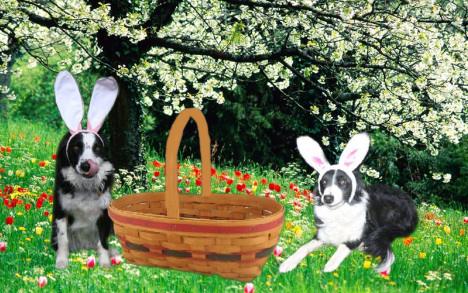 Choose the decorations below that you want to place in the basket, and we'll add them for you.

---
---
---
---
---
If you would like to make your donation in honor or memory of someone, or if you'd like to leave a specific note for your donation, there should be a place on the paypal form to do this. If there isn't, please email tld4now@aol.com with your request. We're having some trouble getting the paypal checkout to take the messages!
BE SURE TO CHECK ON OUR EASTER BASKET DAILY TO SEE WHAT'S BEEN ADDED!!
Click here to see the FILLED EASTER BASKET
Some people are having trouble with the link to PayPal. If you would like to make a donation directly from the PayPal website, go to: www.paypal.com and make your donation to the following email address: rescueorder@aol.com. You don't need a paypal account and they will accept your credit card or check. You can make your donation and we will choose items to put in the basket in your name.
THANK YOU VERY MUCH!!!