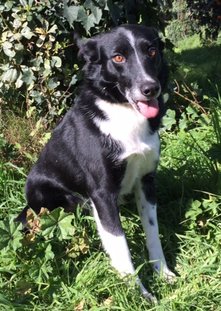 Rescue mama Dixie delivered 5 beautiful babies on April 15th. We have 3 male pups and 2 females. If you are interested in one of the pups or Dixie, please make sure you have an
adoption application
on file with us. To find out more about Dixie and see more photos of her, click on her photo.
To inquire about Dixie or the puppies, please email bcsaver@aol.com.
In the subject line, please put Dixie or for the puppies, the name of your first, second and third choice pup. We will review all applications to find the best possible home for each dog. If you are chosen for one of the puppies, we will try to give you your first choice, but if too many applicants want the same pup, we will choose by the date you first applied. Giving us your top 3 choices will really help. Before you make your choices and email the foster mom, please read the following paragraph.

PUPPIES ARE CUTE AND PUPPIES ARE FUN, BUT THEY ARE A LOT OF WORK!!!
Young 8 week old Border Collie pups need a lot of supervision if they are to stay out of trouble. These pups are very active and if left to their own devices can be quite a handful. At 8 weeks of age, they do eat 4 times a day, approximately every 5 hours. If you want to housebreak a pup, you will need to let them out after every meal and whenever they wake up from naps. If they are being crate trained, they will need to go out at least every 3 hours. If you are not prepared for this type of schedule, please get an older dog instead of a pup.
---
PUPPIES IN THEIR FIRST VIDEO AT 4 WEEKS OF AGE ----------- PUPPIES IN THEIR SECOND VIDEO AT 6 WEEKS OF AGE

PUPPIES IN THEIR THIRD VIDEO AT 7 WEEKS OF AGE

PUPPIES AT 6 WEEKS OF AGE - CLICK ON EACH PUP FOR MORE PHOTOS.